Welcome to my new website! Regular Dog and Deco visitors will notice I'm going through a bit of a makeover. Exciting changes are afoot…
This is my new News section. In due course I'll be bringing you the latest on what's hot and what's not in the world of Art Deco factories, including info and updates on other architectural, conserservation and design related stuff, and maybe even a bit about what I'm up to when not scouting around for more buildings to pose in front of. In the meantime, here's a mini-archive of some old news for my new News section…
May 7th 2009
Mid Century Show and Cooden Beach House Open Day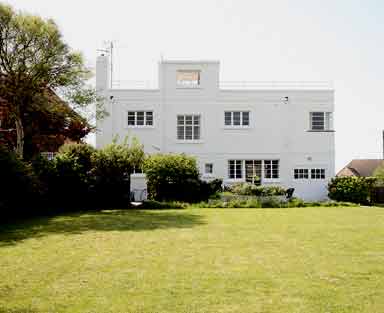 This Sunday (May 10th) sees the Midcentury Show at the De La Warr Pavillion, Bexhill on Sea – www.dlwp.com/WhatsOn . And rather excitingly, for those of you looking to buy a really super example of a Deco/Modern house buy the sea, The Modern House estate agents have an viewing day for their Maynard designed South Cliff property, which they are selling near Cooden Beach. For more details and to book a slot see their website: www.themodernhouse.net.
Le Corbusier exhibition at the Barbican, finishes 24th May
I haven't seen it because they don't let in dogs, but my manager assures me that this exhibition is well worth the trip to the Barbican. Only three more weekends to catch it! www.barbican.org.uk/lecorbusier
July 10th 2008
Battersea Power Station open day
I've just found out that Battersea Power Station is going to be open to the public this Saturday (12th July) and next (19th July). I'm gutted I'm going to miss it, but it sounds like a bit of a unique opportunity – you get to go into the turbine hall and everything, as well as view the planned development for the site.
For more info see the Battersea Power Station site and click on the "Consultation" page.